---
PhD Supervision
Steve Pischke
---
I am happy to supervise PhD students working in empirical labor economics and related areas (contrary to what you might gather from the list below I do work with students who are not German speakers!).
---
Current and past PhD students at the LSE
---
Stefan Maurer: 2012-

Stefan is in interested in economic history. In his MRes paper, he is investigating whether regions in Germany with more support for the Nazi party received more public investment in the 1930s.
---
Abel Brodeur: EDP student from the Paris School of Economics 2012-13

Abel is interested in many topics in applied micro, including well-being and health.
---
Marta De-Philippis: 2011-

In her MRes paper, Marta tested the implications of the multitasking model using data on teaching quality (grades) and acacademic publications for faculty at Bocconi University. She is now working on the performance of immigrant children in school and on the commuting and labour supply of couples.
---
David Schönherr: EDP student from Bonn 2011-12

David is interested in the effects of networks in business on corporate decisions and outcomes. In a paper with Rainer Haselmann and Vikrant Vik he is looking at the lending decisions of German banks which are connected to firms through membership in service clubs. In another project he is investigating the effect of connections to the president on firm performance in South Korea.
---
Abel Schumann: visiting PhD student from the Stockholm School of Economics 2011-12

Abel has been studying the effects of local shocks on economic outcomes. He is now working at the OECD. He has worked on the following papers while visiting the LSE:
"Persistence of Population Shocks: Evidence from the Occupation of Germany after World War II"
"Locusts: Estimating the Impact of Plague"
The papers are available on
Abel's web page
---
Michael Böhm: 2010-

Michael works primarily on the allocation of talent in the labor market. He is currently finishing his PhD and will start as an assistant professor at the University of Bonn in the fall of 2013. He has written the following three papers:
"Has Job Polarization Squeezed the Middle Class? Evidence from the Allocation of Talents"
"The Allocation of Talent over the Business Cycle and its Long-Term Effect on Sectoral Productivity" (with Martin Watzinger)
"Concentration versus Re-Matching? Evidence on the Locational Effects of Commuting Costs"
The papers are available on
Michael's web page
---
Claudia Steinwender: 2009-

After starting to work on the employment effects of regionally based subsidies, Claudia has investigated issues in trade, related to market integration, innovation, and market intermediaries. For this project she has been collecting data on the US-English cotton trade in the 19th century around the time when the transatlantic telegraph cable was laid. She has written the following papers:
"Information Frictions and the Law of One Price: When the States and the Kingdom became United," working paper
"Job Creation Subsidies and Employment. Empirical Evidence for Germany," working paper
"The Roles of Import Competition and Export Opportunities for Technical Change," working paper
---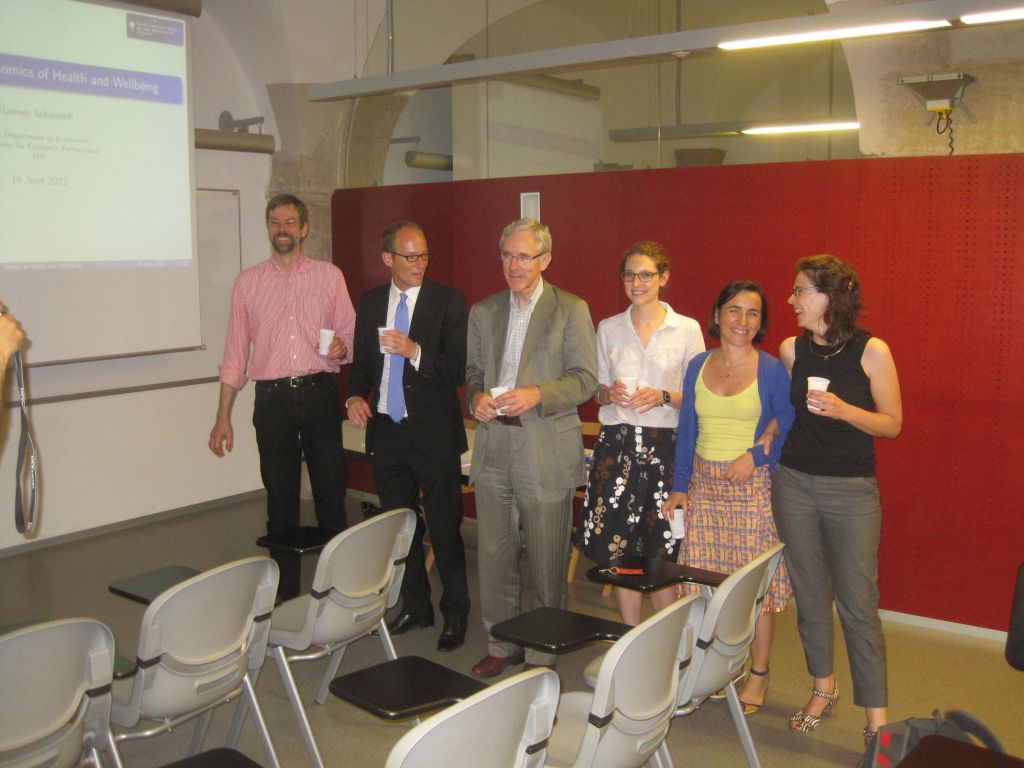 Hannes Schwandt: EDP student 2009-2010, PhD from Pompeu Fabra

Hannes has been working on the effect of economic shocks on health and well-being. He completed his thesis in summer 2012 and is currently a Post-Doc at the Center for Health and Well-Being at Princeton University. His thesis consists of the following papers:
"Testing the Rationality of Life Satisfaction Forecasts: Micro Evidence from the German Socioeconomic Panel," working paper
"Wealth Shocks and Health Outcomes: Evidence from Stock Market Fluctuations," working paper
"Unlucky Cohorts: Income, Health Insurance, and AIDS Mortality of Recession Graduates," working paper
We also wrote a paper together
"A Cautionary Note on Using Industry Affiliation to Predict Income," NBER WP 18384, Sept. 2012
The papers are available on
Hannes' web page
---
Alexander Lembcke: 2008-2012

Alexander has worked on various topics in labour economics. He is currently a consultant for the OECD. He wrote the following three papers as a PhD student:
"The Impact of Paid Holiday Entitlement on Employment: The UK Working Time Regulation 1998"
"Having a Computer and Using it Too: Home Computers and Women's Labour Market Prospects"
"Union Density and Varieties of Coverage: The Anatomy of Union Wage Effects in Germany" (with Bernd Fitzenberger and Karsten Kohn) Industrial and Labor Relations Review, forthcoming
---
Örjan Sandewall: 2007-2008

Örjan wrote a thesis based on some unusual Swedisch datasets. He started his PhD work with John van Reenen. Örjan works as a consultant at NERA. He wrote the followig papers as a PhD student:
"The Co-Twins Methodology and Returns to Schooling - Testing a Critical Assumption" (with David Cesarini and Magnus Johannesson)
"Smart or Selfish? The Role of Cognitive Behaviour in the Ultimatum Bargaining Game"
"Is Financial Risk Taking Behaviour Genetically Transmitted?" (with David Cessarini, Magnus Johannesson, Paul Lichtenstein, and Björn Wallace), Journal of Finance, October 2010
---
Fabian Waldinger: 2004-2008

Fabian completed his thesis on various topics on education and peer effects in academic research. He is now an associate professor at Warwick University. He wrote the following three papers as a PhD student:
"Does Ability Tracking Exacerbate the Role of Family Background for Student's Testscores?"
"Studying Abroad and the Effect on International Labour Market Mobility - Evidence from the Introduction of ERASMUS" (with Matthias Parey), Economic Journal, March 2011
"Peer Effects in Science - Evidence from the Dismissal of Scientists in Nazi Germany" Review of Economic Studies, April 2012
The papers are available on
Fabian's web page
---
Michele Pellizzari: 2000-2004

Michele completed his thesis on unemployment insurance, social assistance, and the role of networks in job search behavior. His first job was at Bocconi University in Milan; he is now at the OECD in Paris. He wrote the following papers as a PhD student:
"Unemployment Duration and the Interactions between Unemployment Compensation and Social Assistance," Labour Economics, 2006
"Welfare Migration in Europe" (with Giacomo De Giorgi), Labour Economics, 2009
"Employers' Search and the Efficiency of Matching," The British Journal of Industrial Relations, 2011
"Do Friends and Relatives Really Help in Getting a Good Job?" Industrial and Labor Relations Review, 2010
The papers are available on
Michele's web page
---